THIS EVENT IS SOLD OUT w/ a FULL FIELD of 64!
Live BRACKET DRAW was held on The STX Am Tour POWER HOUR                         PODCAST on TUESDAY, FEB 7th @ 7:30pm.                                             **** SEE MATCHES & BRACKET BELOW****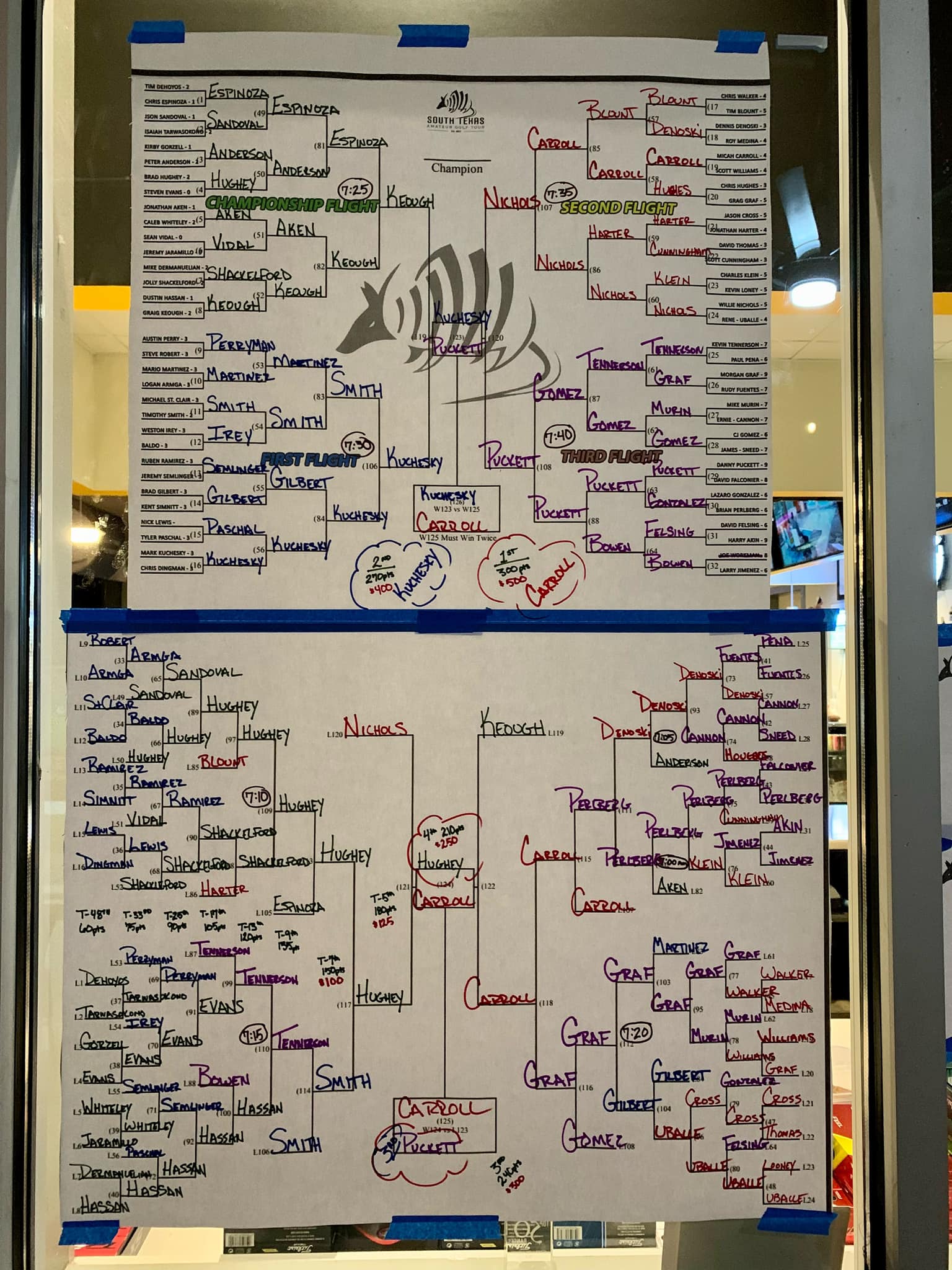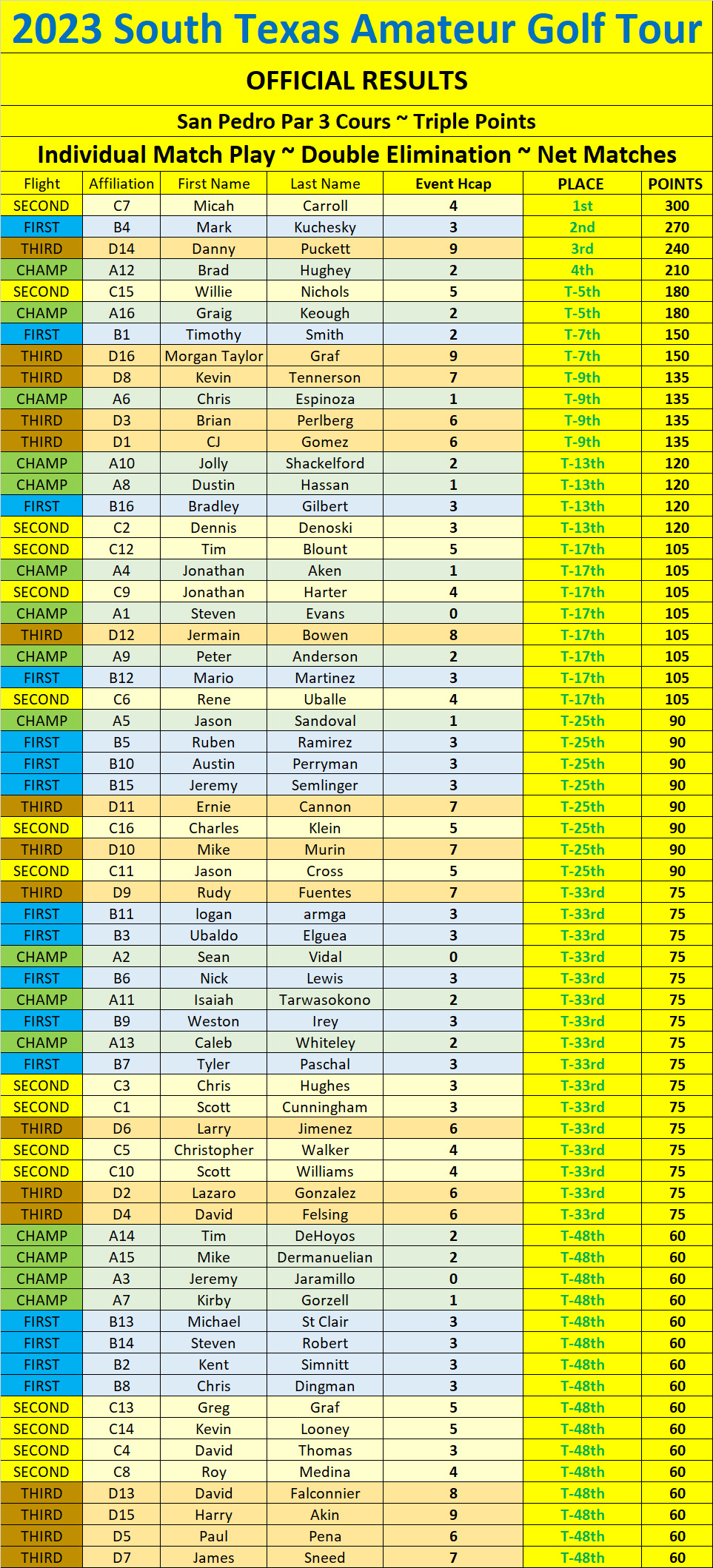 2023 South Texas Amateur Golf Tour
Alamo City Golf Trail Division - Spring Season
SPRING SEASON EVENT #4
FORMAT: DOUBLE ELIMINATION INDIVIDUAL NET MATCH PLAY
COURSE - San Pedro Par 3 Course
DATE - Saturday & Sunday, Feb 18th & 19th
TIME - 7:00am Tee Time Start ~ Round #1
POINTS - Custom TRIPLE POINTS DISTRIBUTION
Included in your entry fee:
Every Golfer Guaranteed 2 - Par 3 Rounds on Saturday.
Burger/Fries Drink included (Saturday)
Two Medium buckets of Range Balls
FORMAT: Individual MATCH Play – Net, 70% of 50%
TRUE DOUBLE ELIMINATION
BRACKET WILL BE BY FLIGHT in Main Winners Bracket
(Consolation Bracket will combine flights)
Double Elimination.
Live BRACKET DRAW was held on The STX Am Tour POWER HOUR PODCAST on TUESDAY, FEB 7th @ 7:30pm.
Officail 1st Notice To STX Am Tour Competitors:
Thank you for your participation in The 2023 STX Am Tour Spring #4 @ San Pedro Par 3 MATCH PLAY!
The 2023 SPRING Season is starting with a BANG!!!!      This is a TRIPLE POINTS EVENT
The race for a Tour Championship and a coveted spot on The 2023 South Texas Match Play Team continues on FEB 18th @ San Pedro!!!!
* 64 Golfers in 4 Flight Bracket! Every Flight is a Bracket.
* Upon arrival @ San Pedro Driving Range for your 1st match, please check in at the golf shop counter; There you will receive your meal ticket and range tokens.
* ALL SCORING WILL BE DONE OUTSIDE ON SAN PEDRO's Back Patio. There will not be GOLF GENIUS for this event. The paper scoreboard will be the official scoreboard. You do not need to turn in signed scorecards in match play; The winner of the match IS RESPONSIBLE FOR REPORTING THE OUTCOME TO THE SCORING AREA. 
* Play will begin with Championship Flight @ 7am on SAT morning, followed by FIRST, SECOND & THIRD FLIGHTS. The 1st round will be played as foursomes. 2 matches in each pairing. Following Round #1, play will continue in twosome matches. Matches will continue to tee off until 8:30pm on Saturday evening. Remaining Matches will begin again @ 7am on Sunday morning, continuing as long as needed. San Pedro has limited golf carts and pull carts available. This event will be played primarily as a walking event.
*All flights will play the STX Am Tour Black Tees, with SENIOR GOLFERS 50+, will play the STX Am Tour White Tees (5% reduction in yardage) & FEMALE GOLFERS will play the SP RED Tees (10% reduction in yardage)
*PLEASE immediately come off of the course when your match is over, and report the outcome to the scoring area. Do not continue to play/practice on the tournament course. This will help with pace of play throughout the day.
* San Pedro Driving Rang will open @ 6:30am on Saturday & Sunday for warm-up needs.
* It is recommended that event golfers remain at San Pedro while waiting for thier next match to commence. The Tournament Committee can try and forecast upcoming match times, but it is ultimately the golfers responsibility to be at the #1 tee box when thier match is called.
* San Pedro Bar & Grill will offer several Food & Drink Specials throughout the day, in addition to the event included options. 
* Another Email will be sent on Saturday Evening (2/18) with Sundays match starting times
*There will be a $20 per person OPTIONAL HOLE IN ONE POT (ALL FLIGHTS). This side game will take place for SATURDAY ONLY & COVER ALL ROUNDS & HOLES PLAYED DURING MATCH COMPETITION. The ENTIRE POT will be paid out TO THE 1st HOLE IN ONE! (Up to $1,000). In the event that there are NO HOLE IN ONE's, there will be 2-Closest to the Pin markers on holes #1 & #2. The CTP Winner on each hole, will recieve 40% of the HO1 Pot, with 20% going to The 2023 STMPC. 
HANDICAP HOLE ORDER:
#1 HCAP = Hole #4
#2 HCAP = Hole #9
#3 HCAP = Hole #3
#4 HCAP = Hole #7
#5 HCAP = Hole #5
#6 HCAP = Hole #6
#7 HCAP = Hole #1
#8 HCAP = Hole #2
#9 HCAP = Hole #8
Point Distribution:
1st Place = 300pts
2nd Place = 270pts
3rd Place = 240pts
4th Place = 210pts
T5th Place = 180pts
T7th Place = 150pts
T9th Place = 135pts
T13th Place = 120pts
T17th Place = 105pts
T25th Place = 90pts
T33rd Place = 75pts
T48th Place = 60pts
Prize Payouts:
1st Place - $500
2nd Place - $400
3rd Place - $300
4th Place - $250
T5th Place (X2) - $125
T7th Place (X2) - $100